So you've spent the day exploring the beautiful island of Barbados. You've even checked off some of our things to do in Barbados and now finally the day is winding down. Sunset is probably one of the best times of the day while you are on your Barbados vacation. The west coast is one of the best spots to sit with a drink and enjoy a beautiful sunset. There are many bars dotted along the west coast serving amazing rum punches, you can find a few of our favourite here. You can also opt to make your own and you can follow our rum punch recipe here, we've been told its pretty good 😉
If you are staying around Holetown then we highly recommend grabbing your booze from the GrapeVine, they have so many options from wines, to rums, gins and whiskeys! They also get bonus points for being right across the road from one of our favourite beach spots!
So grab your favourite drink or cocktail and let's find out the best spots to sit and watch the sunset!
— This post contains affiliate links, this means when you purchase one of the items below, we get a small commission at no extra cost to you —
What to do in Barbados?
Ready to find out what you need to do in Barbados? Click below to find out!
1. Drill Hall Beach
Located across the road from the famous Garrison Savannah, and just 5 minutes south of Bridgetown. This beach is dotted with palm trees which provide the perfect amount of shade until sunset. It is a great spot to spend your afternoon. There are also a few shallow rock pools for paddling. If you are based on the south coast then we highly recommend coming here for a sundowner.
2. Speightstown Beach
In the north of the island you can find Speightstown, as you drive through there is a beautiful stretch of beach right in the center of the town. It is dotted with lots of little chic beach bars which serve food and drinks all day. If you are trying to stick to doing Barbados on a budget then we recommend relaxing on the beach with your own drinks.
3. Batt's Rock Beach
This beautiful spot is just north of the Mighty Grynner Highway, it is a popular spot for the university students who walk down the hill to enjoy an evening sunset. There is a little bar located right by the beach facilities or you can continue walking along the beach for a more secluded spot.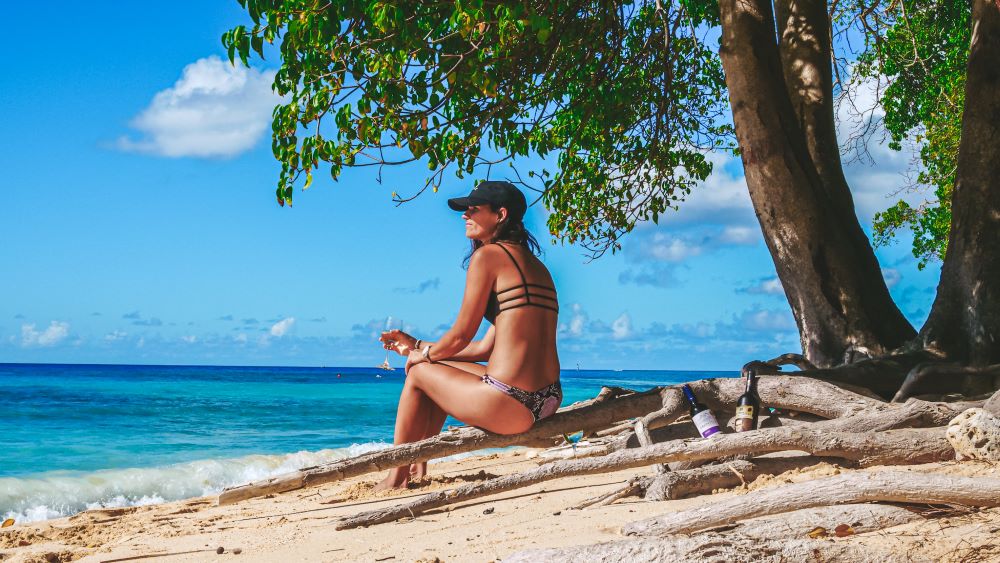 4. Alleyne's Bay
This beach is probably one of the longest stretches of beach along the west coast, and probably the perfect place to spend the day. It is also one of our top spots to go swimming with sea turtles. This beach is also dotted with bars and restaurants which makes it easy to grab some lunch or dinner after a drink or two!
5. The Beach House Beach
One of our favourite spots and it is easily accessible if you are staying in Holetown! Places like All Seasons Resort and Travellers Palm are only a ten minute walk away from this spot. Not to mention that The GrapeVine is en route to the beach as well, so you can pick up any last minute items for that perfect sundowner.
What to Pack for Barbados?
Be prepared for your Barbados vacation!
Don't forget to pin this for later!